Seneca Overview

Welcome to the
Piper Seneca
The Seneca is propelled by twin-engine reliability and power, the highest single-engine service ceiling in its class, and a sophisticated three-screen G1000 NXi avionics setup. Boasting a roomy cockpit, extraordinary visibility, impressive cargo space, a luxurious cabin with club seating, and an aft work table, now you can enjoy freedom as only the Seneca provides.
Download Brochure
Specifications

Avionics

Additional Equipment

Safety Features

Range Maps

Aircraft Design
Specifications
Specifications
Propeller
McCauley 3-Blade
Constant Speed | Full-Feathering | Counter-Rotating
Fuel Capacity
Useable: 122 US Gal | 462 Liters

Engines
(2) Turbocharged Continental TSIO-360-RB
Horsepower: 220 hp each
Dimensions
Wingspan: 38 ft 11 in | 11.9 m
Length: 28 ft 7 in | 8.7 m
Height: 9 ft 11 in | 3.0 m
Avionics
Avionics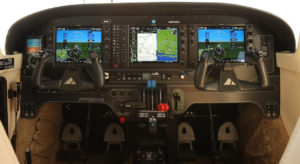 Standard Features

Garmin G1000® NXi Avionics Suite
Dual GIA 64W NAV/COM/GPS
GFC 700 Autopilot
Single GRS 79 AHRS Computer
Garmin FliteCharts
Garmin SafeTaxi
GMA 1360 Digital Audio Panel
Single GDC 72 Air Data Computer
GTX 335R Transponder (ADS-B Out)
Aspen Standby EFD 1000
Other Equipment

Propeller Synchrophaser
Hardwired Cockpit Bose A20 Noise-Cancelling Headsets (2)
USB Charging ports
Rosen visors
Additional Equipment
Additional Equipment
SurfaceWatch
PiperAire Air Conditioning
Enhanced AFCS Enablement (includes ESP)
Jeppesen Chartview (one year subscription to Jeppesen PilotPak)
GSR 56 Iridium Transceiver
GDL 69A SXM Satellite Radio / Weather
GWX 75 Weather Radar
Flight Into Know Icing (FIKI) includes Enhanced AFCS
L3 WX – 500 Stormscope
SVT – Garmin Synthetic Vision
GWX 75 Ground Clutter Suppression & Turbulence Detection Enhancement
ADF – Becker 3500
1999 kg Gross Weight Kit
2nd GRS 79 AHRS and GDC 72 Air Data Computer
Built-In Oxygen System
TAWS-B (Terrain Awareness and Warning System)
DME – BendiKing KN 63
Vision 1000 (Appareo Flight Monitoring System)
Flight Stream 510
GTS 825 Traffic Advisory System
GTX 345R Transponder with ADS-B In and Out (Exchange for standard GTX 335R Transponder)
AmSafe Seatbelts – Pilot and Co-Pilot Positions
Safety Features
Safety Features
Safety is Piper's foremost priorityas illustrated by the extraordinary safety features available across the Piper product line. The Seneca is designed specifically for the owner-operator of advanced, high-performance, twin-engine aircraft, integrating an extraordinary combination of industry-leading safety tools, the latest Garmin 1000® NXi avionics and the most thoughtful, intuitive and inspired engineering design in the general aviation industry.
Electronic Stability Protection (ESP): Keeping you safe in stable flight when hand-flying the Seneca, the ESP system functions independently of the GFC700 autopilot and applies control force toward stable flight whenever pitch or roll deviations exceed recommend limits. ESP will also automatically enter unit LVL mode if recommended limits are exceeded for too long.
Synthetic Vision (SVT): See clearly and navigate safely even when the view through the cockpit windscreen is dark, foggy, hazy or IMC. SVT provides a 3D graphical depiction with color-coded landscape identifying rising terrain and hazards. It also provides; pathways in the sky, traffic, terminal procedures, ILS or BGPS/WAAS vertical approaches, and more.
Manual Level Mode (Blue Button): If you ever experience spatial disorientation in your Seneca, just push the blue Manual Level Mode button and the GFC700 autopilot will engage and return your aircraft to straight-and-level flight.
Multi-Function Display: The large, 12-inch Multi-Function Display in the Seneca allows you to put the information you need exactly where you want it, when you need it. Smart design puts engine and aircraft instruments front and center. Paired with charts, instrument approach plates, airport diagrams, in-flight weather radar, flight planning tools, traffic awareness, and entertainment, your level of information reaches new levels, while your workload remains manageable.
Aspen EFD1000 Backup Display: The Aspen EFD1000 Backup Display as your standby instruments solution you will have clear, easy to interpret altitude, attitude, airspeed, and heading/magnetic compass.
GTS 825 TAS (Traffic Advisory System): Combined with Garmin® G1000 NXi, the GTS 825 offers built-in ADS-B receiver technology which is enabled with the installation of the GTX 335R ADS-B In (standard), or GTX 345R ADS-B In and Out (optional) Mode-S transponder, the system displays (up to 75 targets within 40nm radius) both active and passive traffic. This includes aircraft flight ID, GPS-based positioning, relative direction and altitude, plus vertical and course trend vectors.
Optional Vision 1000 Appareo Flight Monitoring System: Vision 1000 captures flight data, such as attitude (pitch, roll and yaw), WAAS GPS (latitude, longitude, ground speed, vertical speed, GPS altitude), as well as ambient audio and other flight factors.
Garmin GTX 335R & GTX 345R: The all-digital Garmin GTX 345 and GTX 335 are integrated with the Garmin® G1000 NXi Avionics suite. They are Mode S transponders with the 1090 MHZ ADS-B "Out" transmission capability. The GTX 335 model is an ADS-B "Out" only solution, while the GTX 345 adds ADS-B "In" capability as well, enabling it to receive and overlay subscription-free weather1 and traffic information on compatible displays and select portable devices – by using Garmin Connext™ to wirelessly stream the data via Bluetooth® technology. The GTX 345 further incorporates a built-in audio output for audible traffic and altitude alerts.
Garmin SafeTaxi: Situational awareness on the ground is as important as it is in the air, and with Garmin SafeTaxi, you can display airport diagrams (for over 1,300 airports in the United States, with additional coverage in Europe and Canada) with your aircraft position georeferenced right on your Seneca's MFD.
Garmin FliteCharts & Jeppesen Chartview: Remove paper from your briefing process and see your aircraft in its georeferenced position on either Garmin FliteCharts or Jeppesen Chartview on-screen chart services.
Range Maps
Range Maps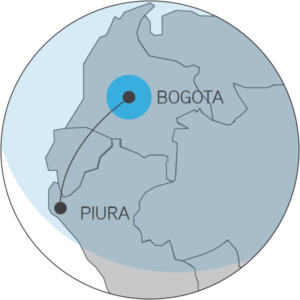 Bogota to Piura
714 nautical miles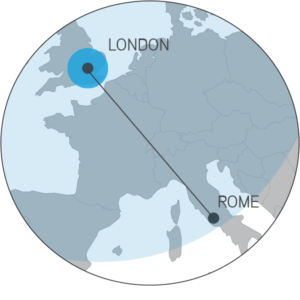 London to Rome
775 nautical miles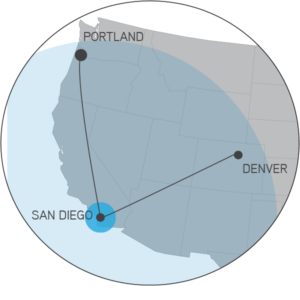 San Diego to Portland
810 nautical miles
San Diego to Denver
741 nautical miles 
Aircraft Design
Aircraft Design
Piper's engineering and design teams lead the industry in designing for the owner-flown class of aircraft. Ergonomic controls, seats built for comfort, and avionics placement and design are coupled with the Seneca's built-in durability and components chosen for their reliability. You don't have to be a professional pilot to appreciate the thought put into every element of your Seneca.

Seneca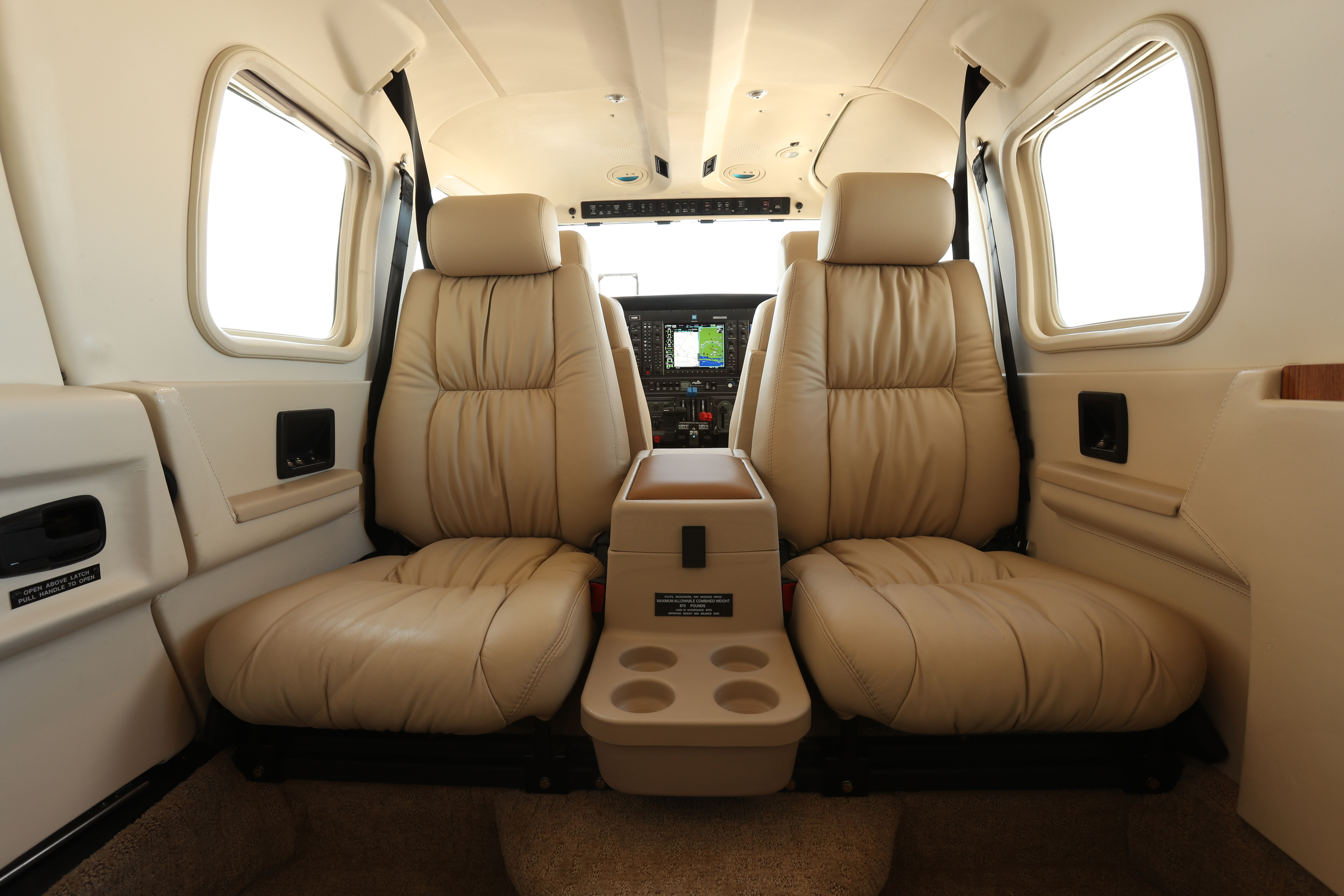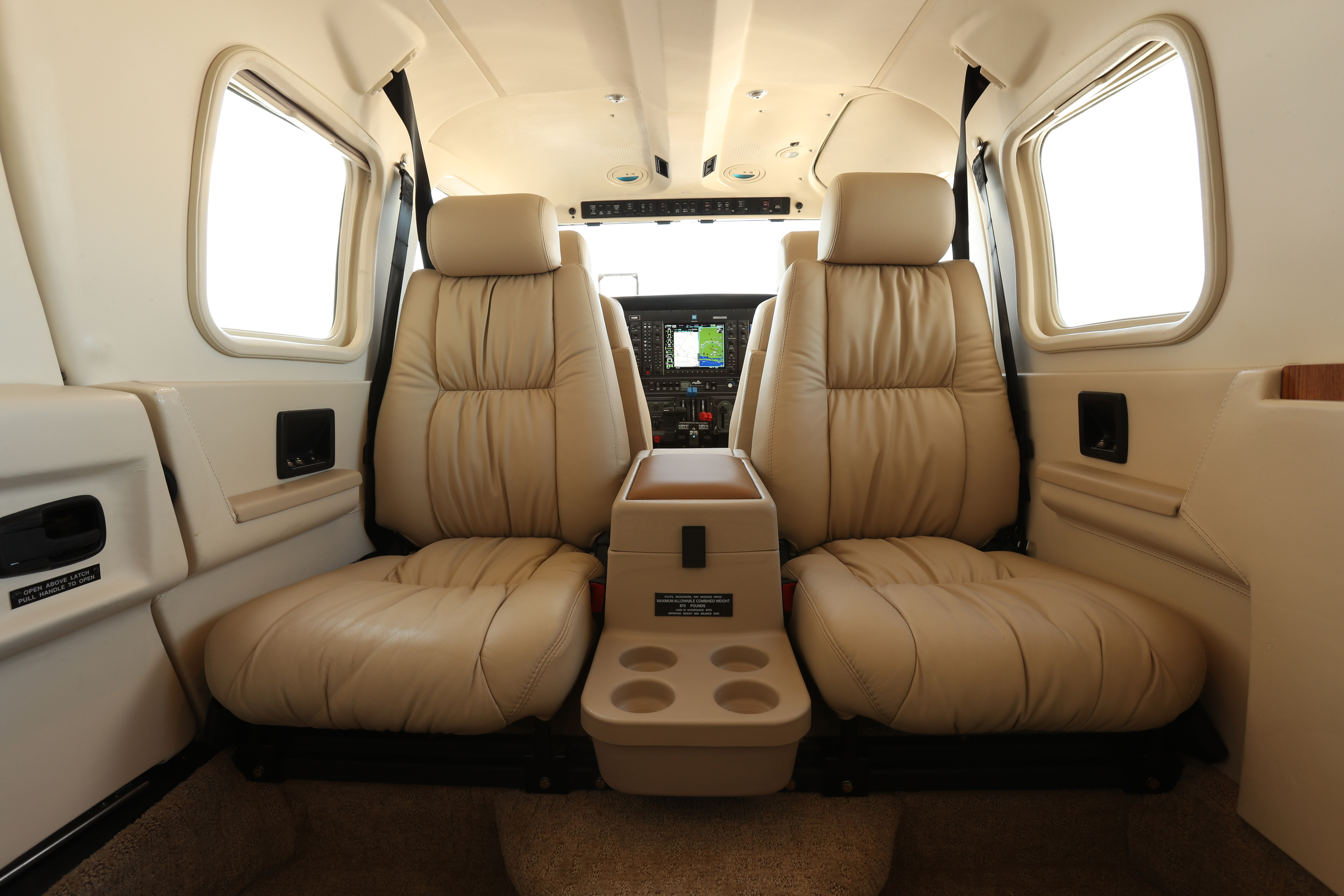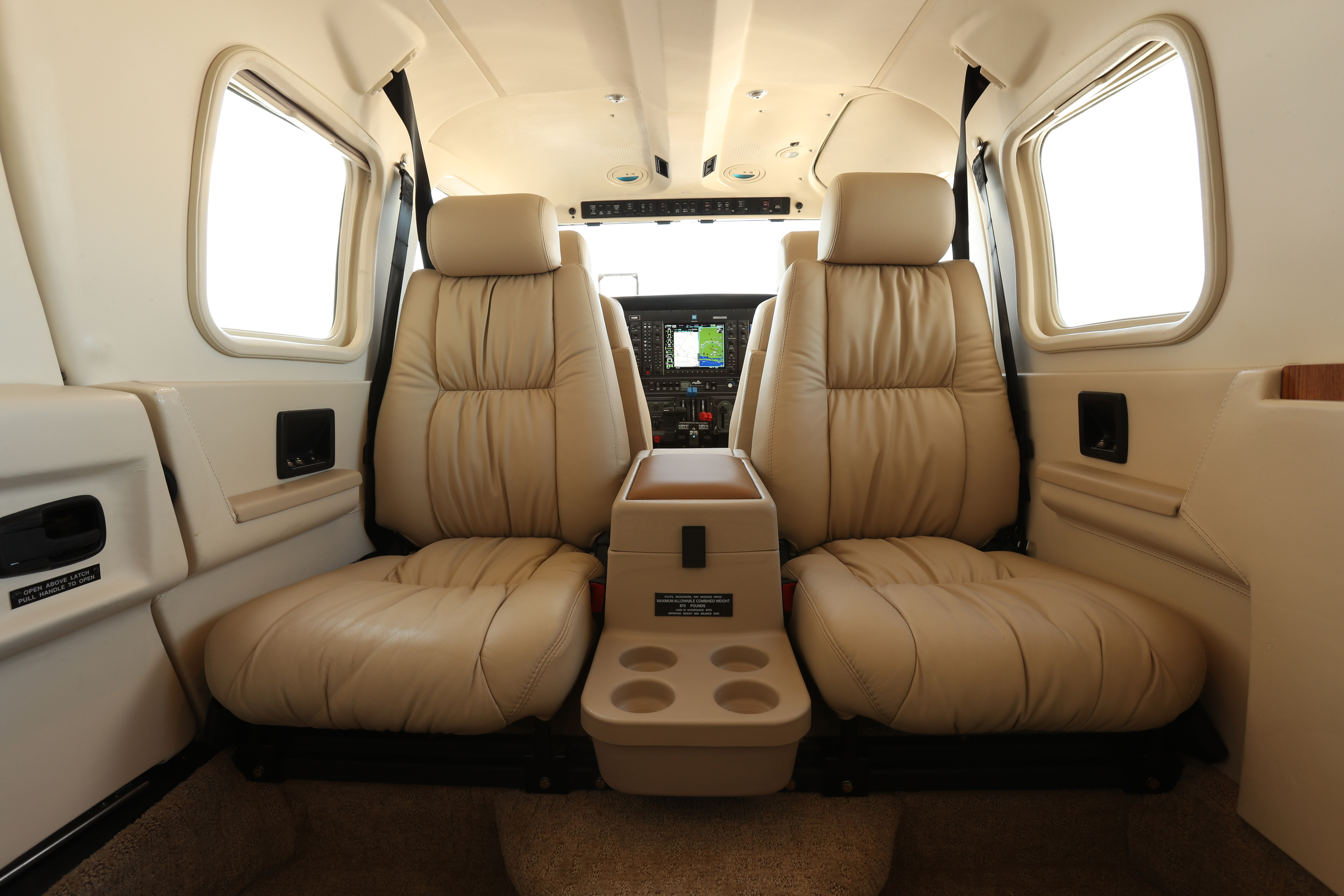 The Cabin Above Class
The finest interior in its class, the Seneca boasts premium leather, carpet and wood/metal trim. Creature comforts abound with high end carpet and interior appointments, power plugs, lighting controls, beverage holders, work table, and seat controls for each passenger.