VERO BEACH, FL. January 5, 2022 – Piper Aircraft, Inc. announced today the expansion of its brand ambassador program to include Minnesota State University at Mankato (MNSU). Piper Brand Ambassadors leverage their social media channels to promote their individual pilot training journey and act as advocates for the aviation industry. The program is designed to increase awareness of the aviation degree paths offered by Minnesota State University as well as showcase the Piper training product line in use at a collegiate flight school. The collaborative initiative is expected to create a community of like-minded aviation enthusiasts with a career interest in aviation.
Together, Piper and the team at Minnesota State University recruited and selected the new ambassador.  The selection was based on the individual's enthusiasm, versatility and passion. Minnesota State University freshman, Elle Taylor, will be the first Ambassador from the school and will join a team of five ambassadors from other collegiate flight programs throughout the United States.  She will have the opportunity to share her personal training journey story using social media channels like Instagram as well as speak about the aerospace program and campus life experience.   Most importantly, she will be able to provide a glimpse into the exciting life of a pilot in training and will help inspire future aviators.
"Elle is currently training to obtain her Private Pilot's license and is pursuing a Bachelor's of Science degree in Aviation in Professional Flight.   She is very involved at Minnesota State University and currently serves as the event coordinator for her residence hall and is a member of the Aviation Learning Community organization at MNSU," said Jackie Carlon, Senior Director of Marketing and Corporate Communications. "Elle's outgoing personality and passion for aviation make her the ideal Brand Ambassador for Piper Aircraft and MNSU. We look forward to following her aviation journey."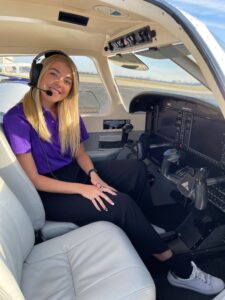 About Piper Aircraft
Piper Aircraft Inc., headquartered in Vero Beach, Fla., offers aviators throughout the world efficient and reliable single- and twin-engine aircraft and is the first general aviation aircraft manufacturer in the world to certify Garmin Autoland. The single-engine M-Class series – the M600SLS, M500, and M350 – offers businesses and individuals elegant performance, value and a superior ownership experience. The Personal Class Seneca V, Archer LX and Archer DLX balance proven performance, efficiency, and simplicity in a piston-powered aircraft. The Trainer Class Pilot 100/100i, Archer TX, Archer DX, Arrow, Seminole and Seneca V aircraft form the most complete technically-advanced line of pilot training aircraft in the world. Piper is a member of the General Aviation Manufacturers Association. To learn more about Piper Aircraft, visit the company's website at www.piper.com.
# # #
Piper Aircraft
For further information, contact:
Jackie Carlon
Phone: (772) 299-2859
Mail to: Jackie.Carlon@piper.com
piper.com