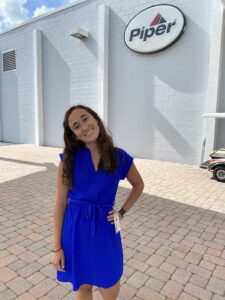 I came into my position as a Sales and Marketing Intern for Piper Aircraft this summer slightly anxious about what was to come. However, from the moment that I arrived in Vero Beach, I was welcomed with kindness and treated like family. I quickly realized that Piper Aircraft is a company that values its people more than anything.
Even in the short time I spent at the Piper factory, I created so many lasting memories. On my first day as an intern, I was lucky enough to fly in an Archer and see my new town from the air. I've been flying for a few years now, but I'd never flown in Florida — or anywhere along the coast. Flying along the water brings a whole new aspect of safety into the cockpit — and some beautiful views! I can easily say that my time flying in Florida has been my favorite by far, and if you ever have the chance to fly over the coast, I'd highly recommend you take it!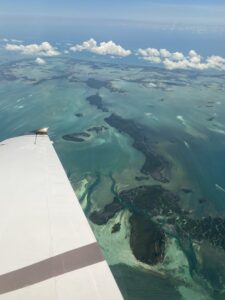 In my first week at Piper, I didn't quite know what to expect in terms of my job responsibilities, but I was pleasantly surprised to be up in the air every day. On day four, I took my first flight in the right seat of an M350. On day five, I rode in an M600/SLS over the Florida Keys. That same weekend, I got to fly myself into a PA-32 fly-in in Olive Branch, Mississippi. I quickly learned that general aviation is an exciting and ever-changing environment, and I enjoyed every new opportunity my internship afforded me.
In addition to the flying portion of my internship, I also had responsibilities in both the Marketing and Sales offices. The team quickly trusted me to complete research and large tasks related to Piper's participation in one of the biggest airshows in the United States in addition to running point on various advertising initiatives. I had the confidence to take on new responsibilities thanks to those around me offering mentorship and advice along the way. I am forever grateful for the time they spent helping me grow and learn more about what it means to be a professional in aviation.
When I started this internship, my career goal was to begin at a regional airline and advance in the jet world from there, hoping to find a well-respected corporate operator where I could end my career. Yet, this internship and splitting my time between office work and flying has made me
realize what I ultimately want in a career and how unique my path can be. After I graduate college in May of 2023 from Purdue University, I hope to begin my career in general aviation and continue to share my love of flying with those around me. Someday, I hope to be in the left seat of a mid-size corporate jet, but until then, I believe general aviation is the right place for me — and this summer at Piper has helped me realize that.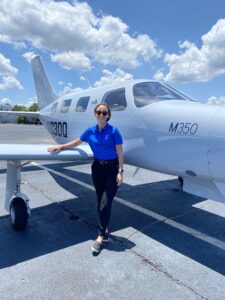 Most importantly, thank you to everyone in the Sales and Marketing departments at Piper Aircraft for your kindness and generosity this summer as I came into your world and found my place here with Piper. This summer has been a special one for me, especially because of your presence.
Interested in launching your career with Piper Aircraft? Explore our open positions today.
View Careers